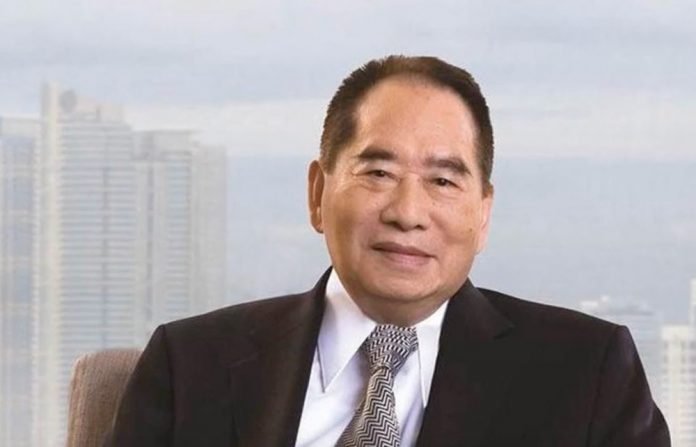 Chinese-Filipino business magnate, investor and philanthropist Henry Sy Sr. has died at the age of 94.
He died in his sleep this morning, his daughter Teresita Sy-Coson and Jose Sio, chairman of SM Investments Corp. said.
The business leader is survived by his wife, Felicidad Tan, and six children, Teresita Sy-Coson, Hans Sy, Harley Sy, Elizabeth Sy, Herbert Sy, and Henry Sy Jr.
Teresita, the eldest, serves as the vice chairman of SM Investments Corp. and the chairperson of BDO.
Henry Jr. is the co-vice Chairman of SM Investments Corp. and chairman of SM Prime Holdings Inc. and Highlands Prime, Inc. He is also the chairman and CEO of SM Development Corp.
Hans, Harley, Elizabeth, and Herbert hold various directorial and executive positions within the SM Group.
Philippines' richest
Forbes Magazine listed Sy as the Philippines' richest since 2005 with an estimated net worth to $19 billion.
Sy became a billionaire from a humble beginning operating a shoe store in Quiapo, Manila in 1956. Sixteen years later, the store became SM Quiapo, SM Prime Holdings' first department store.
Today, SM Investments is an empire that includes SM Retail Inc., which operates the nation's biggest supermarkets and department-store chains; SM Prime Holdings Inc., the largest shopping-mall operator; and BDO Unibank Inc.
Sy was the chairman emeritus of conglomerate SM Investments Corp. that is ranked 52nd richest in the world.
Today, the group runs 62 department stores, 56 supermarkets, a network of 194 SaveMore grocery stores and 50 hypermarkets.
Early years
Henry Sy was born poor in the southeastern Chinese city of Xiamen, in Fujian province. He immigrated to the Philippines at the age of 12 and started selling rice, sardines and soap at his father's neighbourhood store in Manila in 1936.
He completed his secondary education in a school now known as Chiang Kai Shek College[ and earned his Associate of Arts degree in Commercial Studies at Far Eastern University in 1950.
Career
In 1972, Sy established his first SM department store in Quiapo.
Thirteen years later, he established his first SM Supermall, SM City North EDSA.[
Sy was named "Richest Man of the Year" by the Makati Business Club in 1999.
On the same year, Sy received an Honorary Doctorate in Business Management from De La Salle University.
He founded the SM Foundation Inc., which helps underprivileged and promising young Filipinos.
Sy also invested in large companies including San Miguel Corporation, Asia's largest food and beverage conglomerate. In August 2005, Sy's stake in the said company reached 11%. He then sold that stake in October 2007 for $680 million.
The Sy group is the operator of Banco de Oro and owner of Chinabank. In 2006, Sy bought the remaining 66% of Equitable PCI Bank which is merged with BDO in which he already had a 34% stake, and merged it with Banco de Oro in 2007. The merger created the Philippines' second largest financial institution with resources of close to $17 billion.
In 2017, Sy stepped down as chairman of SM Investments Corporation.
WATCH: Henry Sy Sr. lify story (credit: Mariella Ngo)