Two bombs at a Roman Catholic cathedral in the southern Philippines have killed at least 20 people and injured dozens more, authorities said.
The first blast went off inside the cathedral as Sunday Mass was being celebrated
The second one targeted nearby soldiers who rushed to help the victims of the first explosion, Armed Forces of the Philippines spokesman Brig. Gen. Edgard Arevalo said.
Most of the victims are civilians.

Regional officials said that all casualties were immediately evacuated while the nation's military and the police secured the area.
At least 81 people have been wounded, authorities said, including 14 soldiers of the Armed Forces of the Philippines (AFP) and two Philippine National Police (PNP) officers.

Defense Secretary Delfin Lorenzana condemned the bombing and said, in a statement, he has directed troops to "heighten their alert level" and secure places of worship and public spaces.
"As we convey our sincerest condolences to the families and friends of the victims and offer our sympathy to the peace-loving people of Sulu who are severely affected by this dastardly act, we assure our people that we will use the full force of the law to bring to justice the perpetrators behind this incident," Lorenzana said.
The Defence secretary urged people to "remain calm and avoid spreading panic in our respective communities to deny terrorism any victory."
The attack comes days after a referendum asking the majority-Muslim population whether they back a plan by separatists and the government to create a new self-administered region.
The referendum
In last week's referendum, voters approved the creation of the Bangsamoro Autonomous Region in majority-Muslim areas of southern Philippines.
The referendum was the result of a peace deal between the government and the Moro Islamic Liberation Front (MILF). This led to the enactment by Congress of the Bangsa Moro Organic Law.
The authorities have previously expressed hopes that the vote could be a political solution to try to end decades of fighting between Islamist separatists and the Philippine army in the predominantly Catholic country — a conflict that has claimed 120,000 lives since the 1970s.
The majority of the 2.8 million people participating in the vote supported the referendum, but the town of Jolo rejected it.
The Philippines Commission on Elections announced on Friday that the referendum was ratified after counting the votes from five provinces.

No group has so far said it was behind the attack. Jolo has long been a base for militants including those of the Abu Sayyaf group.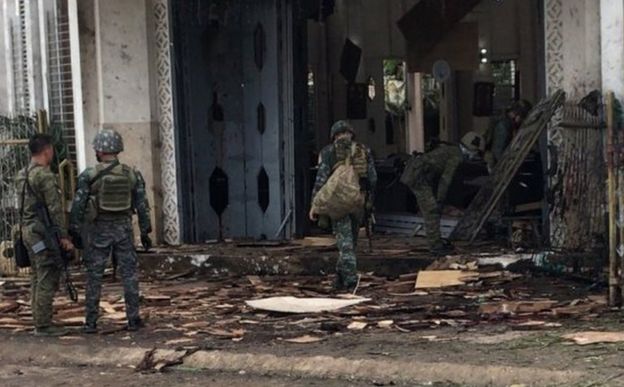 Images posted on social media showed the main road leading to the church sealed off by soldiers in armoured personnel carriers.
Some of the wounded were evacuated by air to the nearby city of Zamboanga.
Calling the attack a "dastardly act", Defence Secretary Delfin Lorenzana urged the local population to work with the authorities to "deny terrorism any victory".
"We will use the full force of the law to bring to justice the perpetrators behind this incident."
Source: BBC and CNN