(3rd Update 5.20 AM PHL TIME)
A magnitude 6.1 earthquake struck Metro Manila and the rest of Luzon on Monday, the Philippine Institute of Volcanology and Seismology (Phivolcs) said.
Dr. Renato Solidum of Phivolcs in a TV interview said that the 6.1 magnitude quake was felt in various areas in Luzon and said aftershocks are still expected. It was earlier reported that the intensity was placed at 5.7.
"This earthquake is not a major earthquake but it's a strong earthquake," Dr. Solidum said.
There were no tsunami alert reported.
Pampanga worst hit
The earthquake which is of tectonic origin left at least 11 persons dead in Porac, Pampanga. Dozens more were trapped.
In an interview over DZMM, Pampanga Governor Lilia Pineda said two grandmothers were killed in Lubao town while three people were killed in a building that collapsed in Porac.
Pineda said that rescuers used heavy duty equipment and search dogs to try to reach people trapped after Chuzon supermarket, a four-storey building went down, crushing the ground-floor supermarket.

Some of those rescued were badly injured and in a state of shock, with one woman having one leg severed.
At least 5 were killed in a collapsed building just north of Manila after a 6.1 magnitude earthquake struck the Philippines. https://t.co/37JwGkaEll pic.twitter.com/ffpFUMHI52

— SCMP News (@SCMPNews) April 22, 2019
Public transport disrupted
In Metro Manila, a witness said office buildings swayed in the main business district causing some damages to buildings. People have evacuated office buildings and air, rail and road transport brought to a halt.
Watch that video:#Philippines
At least 8 people were killed in the strong earthquake in Philippines#Philippines earthquake

לפחות 8 בני אדם נהרגו ברעידת האדמה החזקה, בעוצמה 6.1 שהתרחשה בפיליפינים

٨ أشخاص على الأقل
قتلوا اليوم في #الهزة_الأرضية العنيفة التي ضربت #الفيليبين pic.twitter.com/BZFym8Dpsf

— שמעון ארן شمعون آران (@simonarann) April 22, 2019
"The quake struck 60 km (37 miles) northwest of Manila at a depth of 40 km (25 miles). The USGS initially said the magnitude was 6.4 but later downgraded it slightly," a Reuters report said.
Epicenter
According to Phivolcs, the quake's epicenter was in Castillejos, Zambales.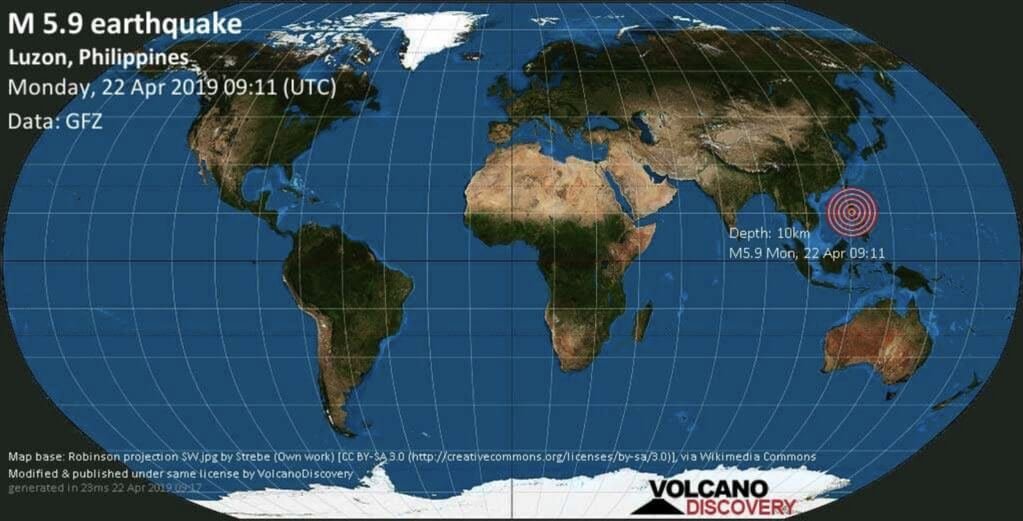 PHIVOLCS: This is definitely not a major earthquake https://t.co/sDo55hwVGt pic.twitter.com/DQk16g5gw4

— CNN Philippines (@cnnphilippines) April 22, 2019
The Philippines is located on the seismically active Pacific "Ring of Fire", a band of volcanoes and fault lines circling the edges of the Pacific Ocean.