This is not your typical romance movie but rather a love story that will enrapture your hearts. It has unexpected twists as you watch the movie. If you are expecting that this movie will look like "Starting Over Again", well, you are wrong. They are different in the sense that this movie discusses how to face life in spite of all the negativities that are happening. It also discusses life and death, and the romance and mysteries in between. Still, the on-screen chemistry of Pascual and Gonzaga is not lost in the movie.
Last Night talks about Mark Peters (Piolo Pascual) who has lost the will to live by jumping off Jones Bridge. Before he jumps, he met Carmina Salvador (Toni Gonzaga) hanging off a signboard just beneath the bridge. Mark came to rescue her and they talked about on how to end their life – together.
In spite of their desire to end their lives, they found friendship.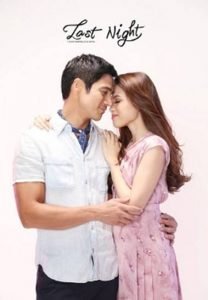 As the story unfolds, you will see a different plot twist which you do not expect. You will now understand why the two characters wanted to take their own lives. You will begin to notice that it relates to a specific period in the Philippine history. The movie gives hints about what will happen next. However, the reveal does not come until the third act, which has lost its appeal and intrigue. But, don't worry, because it still has an element of surprise.
If you notice, the story began in such a mysterious and interesting manner that will make you curious on how the story will unfold. For the first few minutes, it started in a dark mood but as the story develops, it transforms a life of doubt into hope. You'll feel inspired and more appreciative of the challenges we face after you watch it.
What's more amazing in this movie is that it captures Manila during night time wherein it is a quiet city. It highlights the street lamps and old architecture. Also, the setting took off from the Jones Bridge, The Luneta Hotel, a quaint coffee shop in Escolta, and Intramuros. The places may be a concrete view of what's happening to a person who has a broken life and on the verge of taking his/her own life. It's up to you to decide if you want to take it figuratively or you will just enjoy the movie.
In spite of their situation, Bb. Joyce Bernal, the director, managed to show the humor in the conversation of two characters.
Pascual and Gonzaga's acting look believable and natural. Pascual successfully presents his character as someone who suffers depression. Behind his good looks, you can feel his pains, conflicts, and all kinds of emotions in his eyes with every scene. While Gonzaga keeps her aura of a hopeless romantic woman. You can see in her character her desperation, her longing to escape life, and her playful personality. You can relate to the characters.
Aside from the love story and the unique way of delivering the lines, this movie teaches us that life has its own way of unloading the burden in each of us that should not lead to taking one's own life. The movie does not promote suicide but tackles a lot of thoughts when one experiences major problems or heartaches. Also, the movie promotes to reach out to others in spite of your situation. The movie also takes us to the mind of someone who wants to give up as he/she struggles to look for hope. It also tells us to celebrate life in spite of all the problems that we face. We can all relate to the movie because once in our life, we experience setbacks and heartaches.
The movie takes on risks because the story is unusual as it has surprising and unconventional turns rather than the typical Filipino romance movies. The movie is fresh and bittersweet but gives hope that behind the clouds, the sun still shines.
The music greatly adds color to the story. It added some mystery to the character in the plot. The music also helped set the perplexing, passionate, and charming mood.
This unconventional movie is written by actress Bela Padilla and Neil Arce. This is the fourth screenplay Padilla has written and the first to be produced by Star Cinema.
If you liked this article, subscribe to our newsletter.
– erikakamille