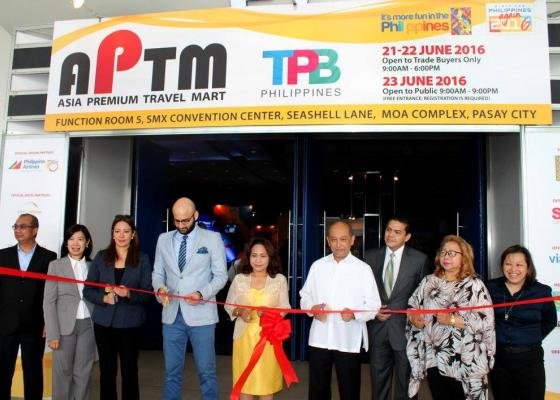 By Azer N. Parrocha
MANILA — A group of luxury travel operators are looking at promoting the Philippines as an ideal destination within the MICE (meetings, incentives, conventions, exhibitions) sector to boost tourism numbers.
Asia Premium Travel Mart (APTM) Vice President Fe Abling-Yu said that now is the perfect time to unlock the potential of the MICE sector as the Duterte administration is investing big in tourism infrastructure development.
"Government is really encouraging to bring in more MICE markets into the Philippines. A lot of venues are being constructed to meet that kind of market," Yu said in a roundtable discussion with reporters.
"What we are trying to attach to the APTM is the MICE because a lot of hotels now have a very good ballroom to speak with. We are trying to dovetail meetings, we have started inviting tour operators that handle meetings in the country," she added.
APTM, slated June 21 to 22 at the SMX Convention Center, is the Philippines' biggest luxury travel expo and the only expo of its kind in Southeast Asia. It is an exhibit of luxury travel suppliers which offer big discounts on airline tickets, hotels and resort accommodations, and tour packages.
Organized by S8 Exhibition Inc. in coordination with the Department of Tourism (DOT) marketing arm, the Tourism Promotions Board (TPB), the APTM is meant to draw in more tourist arrivals from the high-end market.
A luxury tourist spends as much as PHP10,000 daily compared to a regular tourist that spends PHP5,000 daily. This is expected to increase tourism receipts.
Yu, however, said that APTM is more than just an effort to raise tourism numbers but also an advocacy from the end of the private sector.
"We don't need millions (of tourists) if they harm the environment. We need travelers who stay with us longer and spend more," Yu said.
Yu, meanwhile, expressed gratitude to the TPB for seeing the value of APTM.
She said that the TPB will be sponsoring a four-day, three-night tour to at least 10 foreign buyers and two media personalities in Bohol, Cebu, Dumaguete and Davao.
"TPB is very, very serious in promotion. We are confident that the TPB will help us in this project yearly," she said. (PNA)